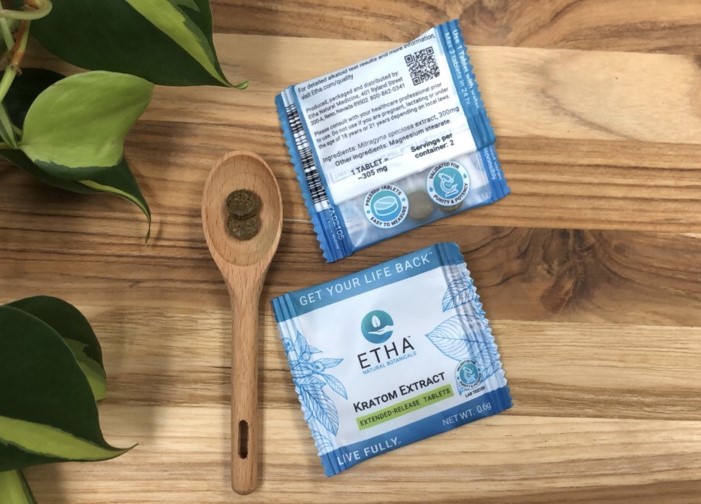 With so many kratom brands on the market, companies do everything they can to entice buyers. Some go for crazy low prices, others opt for creative marketing strategies. And then there are others that try to get innovative by coming up with new ways to enhance the effects and potency of kratom. And that's exactly what the Etha Kratom Tablets try to do as follows in this Etha Kratom Tablets Review.
Sure, you've seen kratom powders and kratom capsules. But the Etha line of kratom tablets is said to provide a stronger, more pronounced effect without requiring users to step up their dosage. The compact tablets are definitely much easier to take than tablets or powder, but are they actually any good?
More About the Etha Brand
Etha Natural Botanicals is owned by partners Alexander and Victor. Their interest in kratom developed after having discovered its benefits against pain. Alexander suffered from the degenerative spinal disease as a child, and Victor was no stranger to injuries that resulted from his participation in martial arts.
According to the brand, they offer 'outstanding quality' products that are manufactured in their own labs. Without any third parties interfering with the production and manufacturing process, the brand guarantees that they maintain full control of the products and what they contain.
What are Etha Kratom Tablets?
Etha Kratom Tablets are exactly what the name suggests. These tablets are said to contain nothing but pure kratom, incorporating zero added ingredients. Their variety is pretty modest, but the brand is vocal about its effort to focus on the quality of its products rather than the quantity of its selection.
Their tablets come in a limited range of choices including:
Concentrated Kratom Tablets

Full Spectrum Kratom Tablets

Maeng Da Kratom Tablets

MidDay Gold Kratom Tablets

Midnight Dream Kratom Tablets

NightFall Kratom Tablets

Recovery Kratom Tablets

SunRise Kratom Tablets

SunSet Kratom Tablets

WorkOut Kratom Tablets

Green Pure Vein Kratom Tablets

Red Pure Vein Kratom Tablets

White Pure Vein Kratom Tablets

Yellow Pure Vein Kratom Tablets
All of these different options provide unique benefits that might better suit your needs, depending on what you're trying to address. For instance, their WorkOut tablets are intended for those who want to improve their performance in the gym. The SunSet blend works to relieve tension and inflammation, which makes it a good choice for winding down after a tiring day at work.
The brand achieves these different effects by blending together different kratom strains. Some of these tablets use fermented kratom which is said to switch up the effects and support certain outcomes.
While their products seem legit, there have been some concerns about the 'purity' claims that they make. Some Redditors assert that there's no way a tablet will hold its shape without a binding ingredient, which raises questions as to whether there are actually other ingredients in the mix.
How to Use Etha Kratom Tablets
The Etha line of Kratom Tablets is used as you would any other tablets. Simply take them with water using the old toss and wash method. While you're at liberty to decide how many you need per dose depending on your threshold, the brand recommends a minimum of 5 and a maximum of 8 tablets per dose.
Package sizes for their tablets start at 27 tablets, with other choices including 100, 250, 1667, and 3334. They also carry travel packs that contain just 8g of tablets so you can take them with you wherever you go.
According to the brand, their tablets have been lab-tested and tried for safety. However they do point out that users are encouraged to approach their physician for more information if they intend to use the products for health reasons.
Moreover, the brand also indicates that their tablets are not to be used by pregnant women or lactating mothers. They also discouraged underaged individuals from using the tablets depending on the local laws in their area. Finally, the brand warns that their tablets are not to be used prior to operating heavy machinery or a motor vehicle.
How Much Do Etha Kratom Tablets Cost?
Prices for the tablets mentioned below in this Etha Kratom Tablets Review aren't exactly what you would call affordable for most. Their standard strains which are Maeng Da, Green Vein, Red Vein, White Vein, and Yellow Vein sell for slightly less than their signature blends. Prices for their standard strains are as follows:
$6.99 for 8g/27 tablets

$24.99 for 30g/100 tablets

$44.99 for 75g/250 tablets

$199.99 for 500g/1667 tablets

$299.99 for 1000g/3334 tablets
For their signature blends, prices are as follows:
$7.99 for 8g/27 tablets

$27.99 for 30g/100 tablets

$49.99 for 75g/250 tablets

$219.99 for 500g/1667 tablets

$329.99 for 1000g/3334 tablets
The Verdict on Etha Kratom Tablets
From this Etha Kratom Tablets Review you see while they're definitely interesting, the Etha Kratom Tablets aren't anything special when you peel back the unique presentation. Their kratom powder in tablet form, and while they might work to produce that signature kratom experience, there's no guarantee all of the unique blends will do exactly as they say.
On top of that, there's the issue of prices. Because they can be pretty expensive, it's hard to see these tablets as a staple for those who need kratom on a daily. Nonetheless, if you have the dough to spend and you want an exciting new take on kratom chemistry, then you might want to give Etha a try.