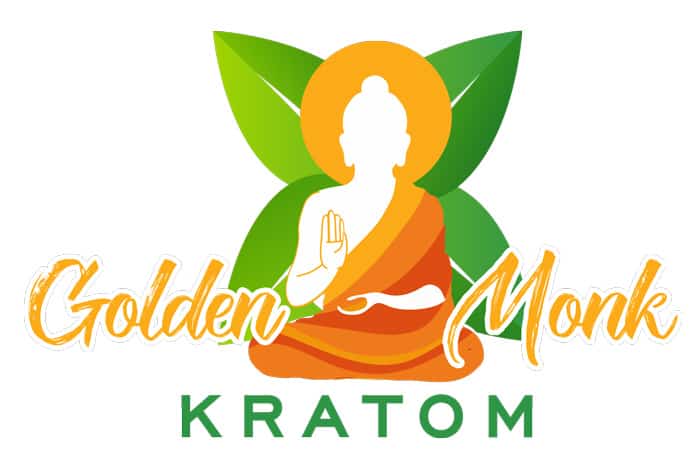 The Golden Monk Kratom started out in Canada in 2016 with only one goal in mind: to provide consumers with the best-quality Mitragyna Speciosa as well as exceptional professional service. The site contains an excellent library of information on use, effects, and anything you need to know about Kratom. The company believes in transparency, and they proudly give details on how they process their Kratom before and after testing.
Golden Monk strains available
The Golden Monk Kratom gets their strains from reputable farmers in Indonesia, as well as other trusted wholesalers that meet their strict quality standards. They have a few select Kratoms available which are:
Bali – Red
Borneo – Green, Red, White
Indonesian – Red, White
Kapuas – Green, Red, White. You can also get this as a variety pack.
Maeng Da – Green, Red, White
Malay – Super Green
Thai – Red
Golden Monk Kratom doesn't offer free samples. However, if you want to try out their Kratom products, they have a 100g starter pack of 4×25 grams of strains of your choice. From there you can start to level up with the 300g Beginner's Pack of 3 strains. If you have something you already prefer and wish to stick to it, Golden Monk Kratom has a 500g Split Pack for two Kratoms.
Product pricing
Their bestsellers include the 100g sample pack that contains four 25-gram packs of your chosen strains. For beginners, you can also get the 300g Beginner's Pack that comes with three 100-gram packs of your chosen strain. All products are reasonably priced and follow a standard. You get almost the same price as any other vendor in Canada. The Green Vein Borneo starts at $8.99 for a 25-gram pack and can go as high as $99.99 for a 500g pack. Other super sellers include Red Vein Bali, Red Vein Indonesian, and Super Green Malay. You can All of their products are 100% organic and has a full money-back guarantee.
Special discounts and coupon codes
As a new customer, Golden Monk Kratom will instantly give you 10% off on your purchase. You can also join the rewards program to provide you with great savings as a regular and loyal customer. You'll be able to get exclusive offers as well as great discounts the more you buy from Golden Monk Kratom.
How do they handle payment, shipping, and customers?
Orders above $99 get free shipping, and they ship within the day within a strict cut-off period (12 pm PST). Aside from their products, Golden Monk Kratom is highly lauded for their fast delivery. You'll get your order as fast as possible with little waiting time.
If you have any questions about your order, Golden Monk Kratom has excellent customer service you can reach through email and phone. You'll get your response within 24 hours, and only expert and knowledgeable staff will be the ones to answer your question. If you call and no one answered, you'll instantly get a call back so that they can help you with your question.
Shipping options include:
UPS Express Saver – next business day delivery in Canada (orders on Friday will be shipped on Monday). You should complete your order by 12 pm PST to enjoy this service.
UPS Expedited parcel – 3 business days
Canada Post Xpresspost – next-day delivery within BC, 3 days for Western Canada. You should expect 4-5 business days for Eastern Canada deliveries
Canada Post Expedited Parcel – Next day delivery for customers within the greater Vancouver area. 2 days for BC area, and 4 days for Western Canadian Provinces. For orders within Eastern Canada, expect 5-6 business days for delivery.
Note: shipping times may vary for those living in rural areas.
Golden Monk Kratom has one of the flexible payment options. You can pay through Interac E-Transfer, Canada Post COD and Western Union.
How does Golden Monk Kratom compare to other vendors?
Although Golden Monk Kratom is not as old as Madam Kratom, it's already made a great impression in the Kratom Market. As of September 2019, it has 126 Reviews and an "Excellent" rating on Trustpilot. Golden Monk Kratom has all the popular Kratom blends but only has powdered Kratom, unlike Earth Kratom Organics.
Aside from Kratom, Golden Monk also offers a few selections of ethnobotanicals, which are plants used in traditional or cultural methods for health and beauty. Their collection consists of:
Ceremonial White Sage
Damiana
Hawaiian Baby Wood Rose (Indian strain)
Kanna
Maca
Morning Glory seeds
Malungku Bark powder
Ololiuhqui Seeds
Yerba Mate
Golden Monk Kratom stands by on its 100% satisfaction guarantee. If ever you are not satisfied with your order, send them an email with complete details on what's wrong with your product. Pictures will certainly help them provide the right kind of solution to your problem. If you are hesitant to order from Galactic Botanicals because of their no-return policy, you'll have confidence in Golden Monk. Basing from the reviews, the only problem you'll have with Golden Monk Kratom is when you order on Friday. However, you rest assured that your products have excellent quality, and you'll enjoy excellent customer service.
Conclusion
It can be difficult to trust a new vendor, especially if you already have several established ones around. Golden Monk Kratom is aware of this, and it's a challenge that they faced with confidence. Basing on the reviews seen on Trustpilot, all their products are effective and stable. There's also no question about their customer service, and they will do anything to make your buying experience unforgettable in a positive way. The high-quality Kratoms, as well as exceptional customer service from Golden Monk Kratom, makes it one of the best Kratom vendors in Canada that you can trust.