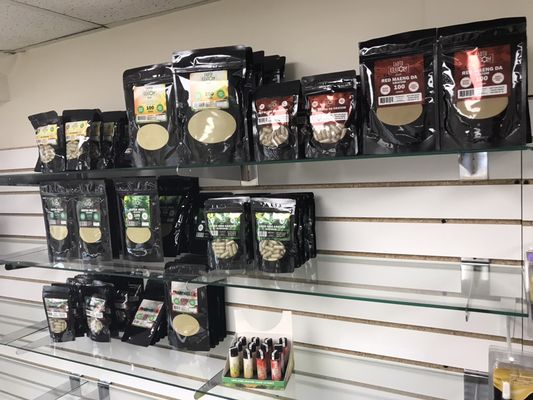 As the center of Canada's oil industry, Calgary is a sprawling metropolitan city with lots to brag about. From hosting the largest rodeo in the world to being crowned the fourth most liveable city in 2018, this bustling locale is also home to an energetic commercial climate that offers everything — including some of the most iconic kratom products in Canada.
There are quite a lot of kratom vendors in Calgary, just like any other Canadian city. But even then, there are some brands that offer kratom products that are just better than the rest, and that's exactly what we're bringing you with this list.
Calgary Kratom
Naturally, the first kratom vendor in Calgary that might pop up during your search goes by the obvious name of Calgary Kratom. Having been around since 2015, the brand has established itself as one of the most reliable go-to spots for kratom enthusiasts. According to their website, their main objective is simple — to provide buyers high-quality kratom that will keep them coming back for more.
With products sourced straight from Indonesia, Calgary Kratom offers an impressive range of choices. Their powders are neatly organized by color vein and include strains like Bali, Borneo, and Maeng Da. If you're in the Alberta area, the brand guarantees next-day delivery for all orders placed before their cut-off.
Alberta Kratom
Another Calgary-based vendor, Alberta Kratom might deter some buyers with their oddly designed website, but the brand offers nothing short of quality kratom finds. They're more of a botanicals emporium (sometimes going by the name Alberta Botanicals), so they sell a slew of natural and alternative medicines, teas, and other organic wellness supplies.
Another thing that makes Alberta Kratom a popular choice among buyers is the fact that they sell strains that are out of this world. With picks like Superior Red MitraSpec, Red Thai Nano, Wild Red, and Mitra Javanica, there's no shortage of choices for the adventurous kratom head. Prices for their products vary from strain to strain, but they offer picks for as low as $9.27 for 25g, so you can be sure to find something right within budget.
Kratom Sensation
This Calgary-based kratom vendor sells an impressive variety of kratom choices that combine familiar favorites with first-time finds. Their picks include Green Sumatra, Red Bali, Red Horn, Super Green, White Maeng Da, and Yellow Borneo, to name a few. Prices for 25g packs start at $11.99, but there are some strains that go as far as $14.99 for 25g.
Offering a 15% off discount voucher for newsletter subscribers, Kratom Sensation secures patronage with their frequent coupons and price cuts. They also accept a bunch of payment options for a more flexible buying experience, including Bitcoin. If customer service is important to you, you should be happy to know that Kratom Sensation is known for its informative, helpful, and responsive team of support specialists.
Kratom Active
Here's another one of those small start-ups that might have you raising a brow the first time you visit their website. Nonetheless, the brand does offer an impressive range of quality products that even the most discerning kratom enthusiasts will love. As of writing, they carry about 20 different kratom strains which can definitely be more than enough for an experimentative kratom head.
With choices like Yellow Maeng Da, White Hulu, Red Turtle, and Green Kali, there's really no shortage of quality picks at Kratom Active. Even more impressive are their low, low prices that start at $8.99 per 25g, with their kilogram bags sold at just $164.99 each.
Canada Kratom Store
You can't really go wrong with a classic. Canada Kratom Store has been around for years, servicing the entire country with its wide selection of kratom products that are sourced straight from Southeast Asia. Although they're not exactly located in Calgary, the vendor has become popular as one of the best places to get quality kratom regardless of where you find yourself in Canada.
Their operations all occur online, and they sell a lot of the most popular kratom strains that you probably know and love. These include Gold Bali, Green Maeng Da, Prime Green, and White Borneo. Prices start at $10.99 for a 25g pack, but they also sell kilos, split kilos, and sampler packs to help you cut back on costs or choose the right strain for your needs.
Something for Everyone
Calgary has no shortage of kratom vendors to cater to your every whim and desire. With well-established, reputable brands servicing the area, both through physical stores and online, you can be sure to find the best kratom to match your preferences by shopping around and checking your options. And since most of their prices are impressively low, you can enjoy quality kratom products that don't put too much of a dent in your wallet.