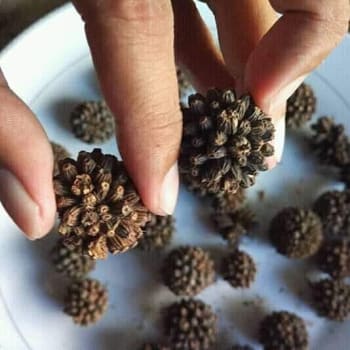 The kratom scene in Canada is only just beginning, so you're not likely to find a diverse range of kratom products. In fact, most vendors sell just the powder, with capsules and extract pretty hard to come by. That said, kratom seeds are also almost impossible to find in Canada and for several good reasons.
The most notable reason is that kratom seeds lose viability rapidly after they're taken from the plant. And since kratom doesn't grow native to Canada, there's a big chance they lose viability on their way during shipping. Nonetheless, there are a few ways to buy kratom seeds in Canada, although they're mostly going to come from vendors outside of the country.
Texas Herbs and Botanicals
Based in Texas, US, Texas Herbs and Botanicals ships to any area covered by USPS or UPS. They sell a wide array of kratom products including resins, powders, extracts, and capsules. But what really sets them apart from other vendors is the fact that they also carry inexpensive kratom seeds.
Their listing simply states 'kratom seeds', indicating that the seeds have since been dried and possess viability of just 10%. They sell the seeds in packs of 10, 20, or 30, for US$15, US$20, or US$25 respectively. Although the vendor doesn't provide a lot of information about how to grow the seeds and other specifics, there are some reviews that claim they were able to get the seeds to germinate.
Mitra Science
Another vendor based in the United States is Mitra Science. They ship their products via USPS and UPS, so they can service areas in Canada. Mitra Science is a top-tier kratom vendor that sells all sorts of products, from powders to extracts, to crushed leaves. Of course, they also sell the seeds to those who want to try their hand at kratom cultivation.
Sold at $55 USD per pack, their seeds can be a bit pricey compared to the competition. On the upside, Mitra Science also sells live kratom plants that are 4-6" in height. These established saplings sell for just US$44 each and can be a great choice if you want to bypass the germination period and get straight to caring for your very own little kratom tree.
Shaman's Garden
Shaman's Garden specializes specifically in exotic botanicals, offering their consumer base a wide selection of hard-to-find herbs and plants. Needless to say, kratom has earned a spot on their line-up in the form of powdered leaf, crushed leaf, and extracts. They also used to carry seeds, but have since removed the listing when they last ran out of stock.
But even then, they keep their buyers thoroughly satisfied with some of the best established live kratom trees you'll find. They offer live plants 4-6" tall and 12-16" tall, so you can plant them straight to your garden and skip gambling with the seeds. They are pretty pricey though at $89.99 and $159.99 respectively, but you can be sure you're getting a well-established sapling.
World Seed Supply
As their name suggests, the World Seed Supply offers a sundry of seeds from exotic plants from all around the globe. Their selection includes not just seeds though, as they also carry kratom powders and crushed leaves. If anything, their products do tend to be slightly on the expensive side, but the brand promises to deliver high-quality, organic herbals that exceed their competitors in terms of potency.
As of writing, the World Seed Supply doesn't currently have kratom seeds in stock. But just like Shaman's Garden, they do have a steady supply of live kratom plants for sale. They offer the plant in two distinct strains — Rifat and Bumblebee which are both rare finds. Prices start at US$50 which can definitely be a steal if you're comparing with other vendors.
Reddit
You'd be surprised to find a bunch of Redditors eagerly sharing information about their kratom cultivation techniques. Even more exciting is the fact that many of them come from Canada, so you can probably get in touch, ask for pointers, and maybe even do a little business to boot.
A lot of the people on Reddit who post on forums about their kratom cultivation experiences have live plants and seeds available for sale. This makes it easier to get viable seeds especially if they harvest the seeds and ship them out to your address as soon as possible. If you receive the seeds within 2-3 days of them getting plucked off of the plant, you have bigger chances of germination.
Grow Your Own Kratom in Canada
There's a lot that could get in the way of cultivating kratom in Canada — from the climate to the availability of seeds. Nonetheless, there are a bunch of places where you might be able to get viable seeds or even live plants. If you're looking to grow your own kratom at home, then make sure to check out these vendors. And don't forget to read up on detailed guides and how-to's to maximize your chances of seeing your plant through to maturity.