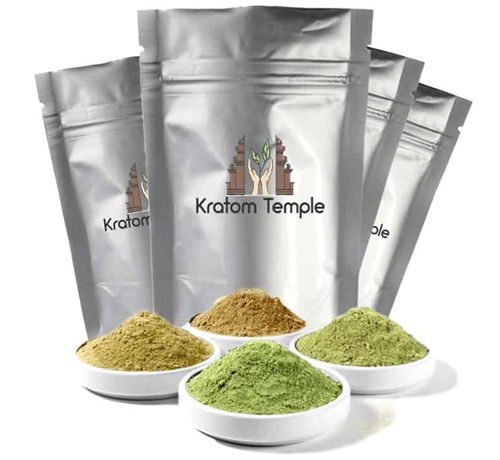 It's becoming harder and harder to find a reputable source of kratom these days. That's mainly because of the sheer number of brands that pop up left and right, all hoping to make a profit off of the fast-selling herb. And that's why as a buyer, it's pivotal that you perform your due diligence to make sure you're getting a quality product that's tried, tested, and safe and learn more in a review of Kratom Temple.
Kratom Temple is one brand hoping to make a name for itself amid the tight competition in the kratom market. With an emphasis on kratom-infused edibles, this vendor offers an interesting slew of choices that just might divert your attention from the usual humdrum of the kratom industry.
Reviews About Kratom Temple
They say that when looking for vendor reviews, the best place to check first would be their own website. Fortunately, Kratom Temple provides readers a modest number of reviews that provide ample insight into their brand and their products. What's more, their reviews are all verified by Trustpilot, which means you can be certain they were left behind by people who actually bought and tried the products.
The brand's Trustpilot page has about 31 reviews which is relatively small for a kratom brand and an average star rating of 4.1 out of 5. Most of their products get five-star reviews for quality and pricing. However, there is some feedback from buyers claiming that the vendor's products have done nothing in terms of effects.
Reviews on Reddit are pretty scarce, however, with just a single post about them coming from their own user account. And while they do seem to have a Facebook page, the brand doesn't appear to be active on the website, which means their Trustpilot reviews might be the only user-generated content about them online.
The Kratom Temple Product Line-Up
There are just two main categories of products on the Kratom Temple website. These include kratom powders and kratom extracts. Their powders come in a modest range of choices, offering buyers seven different strain picks and several bundles to choose from. Strains include:
Black Maeng Da

Red Dragon

Super White Gold

Yellow Maeng Da

Red Elephant

Super White Maeng Da
Each choice comes in package sizes of 1oz, 4oz, 250g, and 1kg. They also have three different blends for buyers to choose from, including their Energizing Blend, Relaxation Blend, and their Concentration Blend that combine different kratom strain across their selection.
If you're looking to try something new, however, the Kratom Temple brand does have quite a few other picks on their list of products. In their kratom extracts category, the brand carries ultra enhanced powders, full spectrum tinctures, concentrates, and edibles. Their gummies and dark chocolates often take center stage because it's not often that you'll find kratom-infused foods on the market.
Kratom Temple Prices and Coupon Codes
Although their products aren't the most affordable you'll find, the Kratom Temple brand does have some reasonably priced choices on their line-up. Their powders sell for $13.99 per ounce and up to $139.99 per kilogram. Their blends sell for just $14.99 per ounce, and their sampler packs go for $59.99 or $39.99.
Kratom-infused fruit gummies start off at prices of $29.95 for a pack of five, which can be pretty expensive. They also have packs of 10 for $49.95 and packs of 15 for $69.95. Their chocolates sell for the same prices. For those who want a stronger kick, the brand offers a concentrate that sells for $30.99 for 10mL or $84.99 for 50mL. And then, of course, there's the tincture that goes for $33.99 for 10mL or $119.99 for 50mL.
Since their prices aren't exactly the lowest, buyers are often on the lookout for coupons and discount offers. Fortunately, Kratom Temple is no stranger to the occasional voucher code to help buyers shave down their grand total. Their most helpful offer however is their Rewards Program that lets you earn points for transactions.
These points can then be used to cut down your grand total on future orders. Every 20 points are equivalent to $1 of store credit, and you can redeem a maximum of 300 points per order. The brand also offers free shipping on orders $99 or over, so you won't have to worry about the added fees if you're buying to stock up.
The Verdict on Kratom Temple
Their prices might not be the lowest and there might be a few bad reviews out there about them, Kratom Temple turns out to be one of the more reliable kratom vendors in their segment.
Offering an interesting range of products that tickles the interest of experimentative buyers, the vendor provides kratom-infused goodies you might not find anywhere else. And because they have a solid Rewards Program in place, you can be sure that every purchase will give you a reason to keep coming back for more.